The Würzburg report was my first 'larger' homepage project, written shortly after the OD Convention in June 1997. Only four pages including the index page, but complete with images, ALT tags, and tables! Of course I would change a few things today, but I decided to leave it 'as is'. Enjoy!
9. Origami Deutschland Convention in Wuerzburg.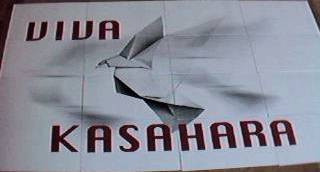 On my way back from Wurzburg, I thought somebody should write a report about this convention. And I did it myself. The following is my totally subjective report on the
9. Origami Deutschland Convention in Wuerzburg. For better readability, I have put the three days on different pages:

My thanks to Doug Philips for beta testing the site, and to Nick Robinson for telling me that it looks fine (for a foreigner).
---
PICTURE INDEX: Title Page
-"VIVA KASAHARA", the puzzle for Kunihiko Kasahara, presented at the Siebold Museum.



---
This page is best viewed with:

---
Copyright © 1997 Matthias Gutfeldt. Most recent revision Thursday, 12. June 1997.