MailSite Team
| | |
| --- | --- |
| Rockliffe MailSite Team is a Microsoft Outlook plug-in that transparently connects Outlook to MailSite mail servers while retaining collaborative functionality | |
Sensible Groupware
MailSite Team powers Microsoft Outlook functionality using MailSite servers. It uses MailSite Server mailboxes in "Corporate or Workgroup" mode instead of "Internet Only" mode.
With the MailSite Team plug-in, MailSite mailboxes operate as full Outlook information stores containing any kind of Outlook items, not just messages.
With MailSite mail servers, MailSite Team supports sharing of users' individual folders, calendaring information, meeting scheduling, and much more. All the functions are natively supported by Outlook. As a result, users can share data using a MailSite server, rather than expensive, specialized servers.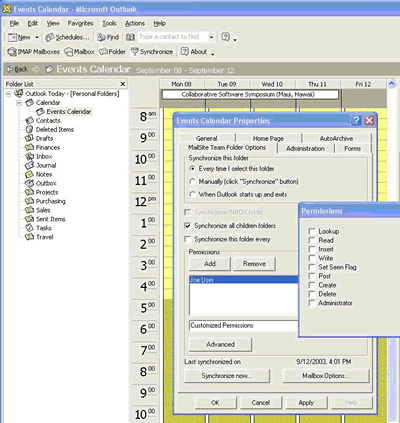 Lower Costs
The MailSite Team solution, with MailSite mail servers, costs less than one-half of a comparable Exchange solution. Because MailSite is more scalable, hardware costs are reduced. MailSite is more reliable, reducing management costs.
MailSite Team's software license is much lower than Exchange's client access licenses (CALs).
Simplified Management
The IT department benefits from being able to preserve user functionality while replacing expensive and unwieldy Microsoft Exchange servers with MailSite mail servers.
MailSite SE, LE, SP and NS are much more scalable and reliable than Exchange, and cost much less. Why run Exchange if your Outlook users can have all their functionality using MailSite?
The Bottom Line
IT departments can greatly reduce their email server costs - the amount of hardware, management, and software licenses - while increasing the stability and availability of their email system, by switching to Rockliffe MailSite. By deploying MailSite Team, users continue to use the same email client to which they are accustomed, so there is no switching cost and no retraining.
Increased Productivity
Users of Microsoft Outlook can continue to share calendar, contact, task and note information, and perform group scheduling (seeing free-busy information), using their existing Microsoft Outlook client software. But instead of connecting to an unreliable Microsoft Exchange server, they connect to a rock solid Rockliffe MailSite server.
MailSite Team is an Outlook plug-in that enables users of Outlook to transparently retain Outlook's functionality with no disruption or retraining.
Features
• Native Outlook calendar sharing
• Publish free/busy
• Group scheduling
• Contact Manager
• Global Contact Lists
• Task List
• Auto Archiving
• Outlook free-form notes
• Activity Journal
• Voting buttons
• Out of office notification
• New mail notification enabled
• Send/Receive Group requests
• Send/Receive meeting request response
• POP & IMAP support
• Client Side rules
• Reminder Window
• Shared Folders
• LDAP/Contact Address book

Preis
Der Preis je Mailbox die mit diesem Outlook Plugin arbeiten soll beträgt einmalig Fr. 215.20 inkl. Mehrwertsteuern. Das Plugin ist vorallem interessant für Firmen die dieses für jede Mitarbeitermailbox kaufen und so Exchange-Funktionalitäten damit erhalten ohne einen Exchange-Server betreiben zu müssen.