---
MORE STUFF WE SELL :
VOODOO RHYTHM RECORDS
This is only a small selection of available VOODOO RHYTHM records.Contact us if ya wanna know more or visit the VOODOO RHYTHM HOMEPAGE to order directly.
---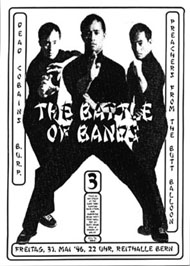 Dink Winkerton presenz ...
...THE BATTLE OF THE BANDS !
7" 1996 VOODOO RHYTHM RECORDS
On this 7" Dink Winkerton , a very popular entertainer , presents you 3 hot swiss acts : the DEAD COBAINS , B.U.R.P. and the PREACHERS FROM THE BUTT-BALLOON.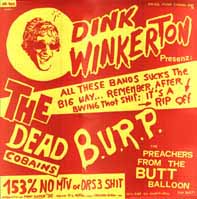 7"-Cover
---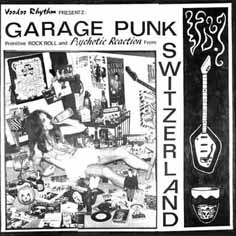 VA - Garage Punk Switzerland
LP 1993 VOODOO RHYTHM / RECORD JUNKIE (Sold out)
Everything you ever wanted to know about Swiss Garage Punk is on this LP . If you're lucky enough to find this LP spend every cent of your hard earned money to grab this.
---