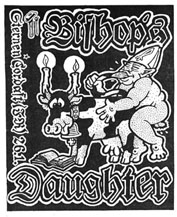 ---
...picture a rock and roll circus...big top,jugglers,a bunch of midgets jumping out of a small car and the most bad-ass,heavy-duty jams flowing...
In the summer of 1989 , the BLACK PAMPERS were established. From that point on, all we ever knew about the face of Rock and Roll had been dramatically transformed into one of the most creative, most inspiring, international networking families known to the western world.
BLACK PAMPERS are a family, in every sense of the word, who bring together thousands of creative minds, bodies and shit from all around the world with the sole purpose of creating a system which constantly opens doors to explore the boundaries of what a Rock and Roll show could be.
In 1991, BLACK PAMPERS spawned a group called BISHOPS DAUGHTER, made up of a collection of Swiss & American rockers who help to originate a part of what BLACK PAMPERS stand for : HARD,MINDFUCKING,FREAKADELIC MUSIC. BISHOPS DAUGHTER is on a roll, making a move out of the underworld, and into the overground. They are part of a movement which is dedicated to giving the audience more than they came for. Not just a concert , but a goddamn circus !
---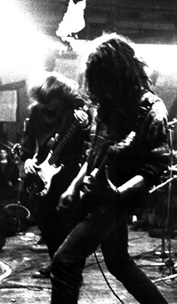 ---
DISCOGRAPHY :
Divine and moral songs for children CD/LP

BISHOPS DAUGHTER`s finest recordings yet . 12 mind-expanding tracks produced by FRANZ TREICHLER from the YOUNG GODS.

BLACK PAMPERS RECORDS

Distributed by SEMAPHORE
SMORE

4 song promo CD , August 1993 , includes 3 songs from DIVINE & MORAL... and a live bonus track: "SKINTRAIL".

Limited edition of 500

BLACK PAMPERS RECORDS
Karl May / Insane
7" SPLIT SINGLE December 1993.

BD join forces with avant-core band ALBOTH ! each recording a song of the other . Limited edition of 1000.

RECORD JUNKIE RECORDS

No title
DOUBLE 7" SPLIT SINGLE January 1992.

Includes the songs "Mother" & "Deadzone". The other single features the band SHANGHAI-LADIES.

SOS RECORDS 007 (Distributed by REC REC Zürich)

GOAR Fanzine EP
COMPILATION 7" SINGLE January 1993.

Includes the song "MUSHROOM" recorded live in Zürich June 1992 . This EP also includes the bands : BORED , OUTSKIRTS OF INFINITY & FU MANCHU .

Garage Punk From Switzerland
COMPILATION LP March 1993.

Includes the song "KINGSNAKE".

RECORD JUNKIE RECORDS (sold out)

S.O.S.Bescheuert
COMPILATION LP 1991.

With bands from Bern covering the song S.O.S. by ABBA

RECORD JUNKIE RECORDS

Sounds Summer Session
COMPILATION TAPE 1991.

Includes 3 unreleased songs from a live radio broadcast on DRS-3 Switzerland.

(Distributed by REC REC Zürich)
---