---

---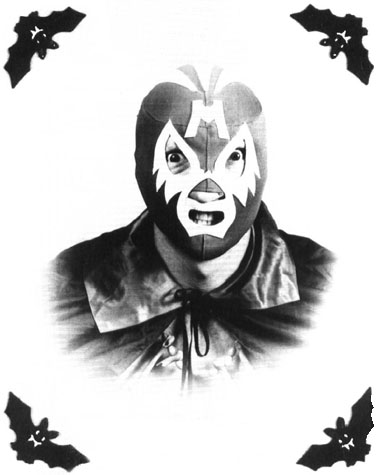 THE KING OF WRESTLING ROCK'N'ROLL
---
In his youth, during one of his daily television brainwashing sermons, LIGHTNING BEAT-MAN was exposed to an Elvis Presley performance. From this moment on he realized his purpose here on this forsaken planet.At the frustrating age of 13, LIGHTNING BEAT-MAN received his first acoustic guiter from his father. He began experimenting with unorthodox tunings and chord structure, which he still adapts to his present chaotic, primitive technique. By 1986 and no longer inspired by the local punk rock movement LIGHTNING BEAT-MAN started a band called THE MONSTERS. Inspired by the likes of the deranged 50's artist HASIL ADKINS and JACK STARR, THE MONSTERS madness continues to explode from their potent 2 minute songs and LIGHTNING BEAT-MAN's horrifying lyrics of necrophilia, mass murder, and sexual perversion. Unable to satisfy his desire to Rock'n'Roll, LIGHTNING BEAT-MAN has also began a solo career as the "one man band".Performing the act of driver, roadie, and opening act for all kind of bands, LIGHTNING BEAT-MAN has become a household word around Europe.
---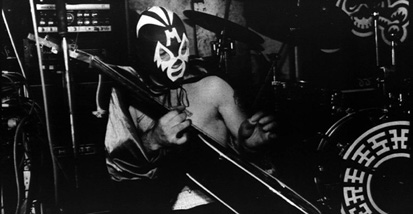 LIGHTNING BEAT-MAN fighting with his GUITAR
---
Much like CLARK KENT, this mild mannered man transforms himself into a Rock'n'Roll Superman. Wearing a Mexican wrestling mask, boxing shorts, a Dracula's cape, and a pair of Army boots, LIGHTNING BEAT-MAN voodoo inspired mask ritual allows him to enter into another dimension, changing himsels from an average chump into a lust-crazed mad man. A masked murdering freak with a acoustic guitar instead of a chainsaw. He'll scoop your eyeballs out with his guitar pick. Crush your weak little skull with his 'vise like' headlock, and then pin you down in the wrestling ring of life. Like most, you will be knocked out before you even knew what fuckin' hit you. Winner and still champion, LIGHTNING BEAT-MAN gives no mercy, and no compromises whatsoever.
---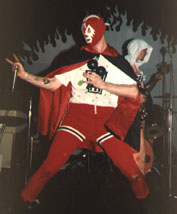 LIGHTNING BEAT-MAN in action with THE INSECT
---
For more information about LIGHTNING BEAT-MAN visit the
---
---